Arkansas Regulations Coyote, Fox, & Bobcat Seasons 2015-2016
2015-2016 Coyote, Bobcat, & Fox Seasons in Arkansas
Description
Season Dates
Limits

Coyote

Statewide: sunrise, July. 1, 2015-sunset, Feb. 29, 2016. Dogs allowed to hunt coyote during the day. Coyote may not be hunted at night.
Statewide: first day of spring turkey season through the last day of spring squirrel season. Day hunting only – No dogs allowed.
No bag limit on coyote. Dogs are not allowed in deer zones where a firearms deer season is in progress that prohibits the use of dogs. During youth turkey hunts, only youths may take coyotes.
Coyote may also be taken during daylight hours with archery equipment, firearms of any caliber or shotguns with shot no larger than T shot. Coyotes may be taken during daylight hours of any open deer, bear, or spring turkey season with hunting equipment legal for that season.

No daily limit
on coyotes
Bobcat may be taken during day light hours with archery equipment, firearms of any caliber or shotguns with shot no larger than T shot. Bobcat and coyote may be taken during daylight hours of any open deer, bear, or spring turkey season with hunting equipment legal for that season. No possession limit.
Note: Wildlife Management Areas have specific seasons and restrictions for furbearers. Refer to the specific WMA information in the Hunting Guidebook for seasons and restrictions for that WMA
Coyote Trapping
Coy
Zones:
Statewide
Opens:
8/1/2015 Sunrise
Closes:
3/31/2016 Sunset
Limits:
ote
During furbearer season, only snares, box traps, smooth-jawed steel leg-hold or Conibear-type traps may be used for trapping. For recommended methods of trapping coyote, please refer to: Trapping Coyotes
Gray Fox, Red Fox
Sunrise , September 1, 2015–Sunset, February 29, 2016.
Bag limit is two per day. Foxes may be taken during daylight hours with a method legal for that season and zone during the fox hunting season.

Limit 2 per day
Firearms Regulation Changes for Coyote
The restriction on rifles used for hunting coyotes has been raised to Any caliber.
Previously, the rule had been .25 caliber or smaller and was raised to .30 caliber or smaller in 2001.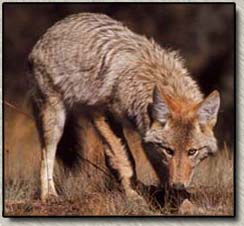 Arkansas Game and Fish Commission